Tecna Rocker and Press Welders
General Information
Spot Weld, Inc. is a distributor for an Italian brand of imported equipment that has a strong foothold in the US market.  They are most often in stock and ready to ship.
The Tecna line, imported from Italy, has beaten all the domestic competition with their economical, yet high quality line of small rocker arm welders and presses.  The equipment is well supported and parts are readily available in North America and worldwide.
Availability is subject to stock at the time of order, please inquire for current inventory.
---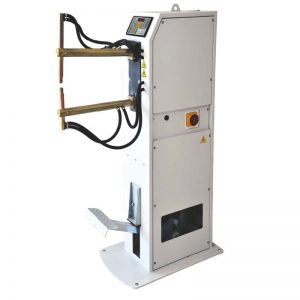 The Tecna 4642 (20KVA) and 4644 (25KVA) foot-pedal operated rocker arms feature:
Foot pedal (manually actuated) operation
Fully adjustable throat depths 15″ – 27″ (380-700mm)
Dual Voltage (switchable) 230V-460V/60Hz/1 phase
Tecna TE-101 Solid State weld control (with pulsation and upslope)
Water cooled transformer, arms, and electrodes
340lbsf (150daN) clamping force with shortest arms, 180lbsf (80daN) with longest arms
Short circuit current, minimum arm length (4642/4644): 9.6kA/11.6kA
Short circuit current, max arm length (4642/4644): 8.8kA/10.5kA
350lbs (146kg) approximate net weight
40mm arm diameter, 22mm electrode holder diameter, #1MT/4RW holders
Priced in the $6k-$7.5k range (USD), turnkey (includes water cooler) depending on options (*pricing subject to change, freight not included, please inquire for current pricing)
---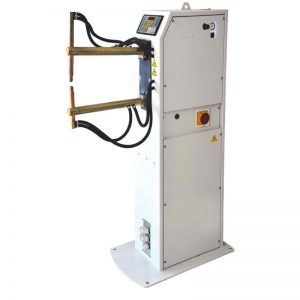 The Tecna 4647 (20KVA) and 4649 (25KVA) air operated rocker arms feature:
Air operated (pneumatic solenoid valve, micro-switch foot pedal initiation)
Fully adjustable throat depths 15″ – 27″ (380-700mm)
Dual Voltage (switchable) 230V-460V/60Hz/1 phase
Tecna TE-101 Solid State weld control (with pulsation and upslope)
Water cooled transformer, arms, and electrodes
370lbsf (165daN) clamping force with shortest arms, 200lbsf (90daN) with longest arms
Short circuit current, minimum arm length (4647/4649): 9.6kA/11.6kA
Short circuit current, max arm length (4647/4649): 8.8kA/10.5kA
350lbs (146kg) approximate net weight
40mm arm diameter, 22mm electrode holder diameter, #1MT/4RW holders
Priced in the $7.5k-$9.5k range (USD), turnkey (includes water cooler) depending on options (*pricing subject to change, freight not included, please inquire for current pricing)
---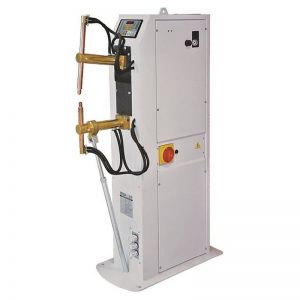 The Tecna 4662 50KVA air operated rocker arm features:
Air operated (pneumatic solenoid valve, micro-switch foot pedal initiation)
Fully adjustable throat depths 11″ – 23″ (280-600mm)
Dual Voltage (switchable) 230V-460V/60Hz/1 phase
Tecna TE-101 Solid State weld control (with pulsation and upslope)
Water cooled transformer, arms, and electrodes
960lbsf (425daN) clamping force with shortest arms, 470lbsf (210daN) with longest arms
Short circuit current: 21kA
Short circuit current, max arm length: 14.3kA
500lbs (228kg) approximate net weight
50mm arm diameter, 25mm electrode holder diameter, #1MT/4RW holders
Priced in the $12k-$13k range (USD), turnkey (includes water cooler) depending on options (*pricing subject to change, freight not included, please inquire for current pricing)
---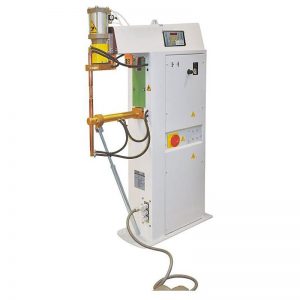 The Tecna 4666 50KVA air operated linear-action press features:
Air operated (pneumatic solenoid valve, micro-switch foot pedal initiation)
Fixed 15.5″ throat depth (280-400mm)
Dual Voltage (switchable) 230V-460V/60Hz/1 phase
Tecna TE-101 Solid State weld control (with pulsation and upslope)
Water cooled transformer, arms, and electrodes
1050lbsf (470daN) clamping force (force chart)
Short circuit current: 17kA (current chart)
500lbs (228kg) approximate net weight
50mm arm diameter, 25mm electrode holder diameter, #1MT/4RW holders
Priced in the $12k-$13.5k range (USD), turnkey (includes water cooler) depending on options (*pricing subject to change, freight not included, please inquire for current pricing)
---