General Information
Spot Weld's Dual Head welders are a game changer for productivity.  True dual-welds, for doubling workload or performing two different weld setups on the same part.
Do you want to weld more than one weld at a time, but need the best possible quality and repeatability over the long term?  A Dual Head spot welder is the only way to do it.  Tools exist for welding more than one weld at a time, but they will always wear, you loose control over individual welds, and tool cost is high.  These tools are intended for short runs.  A Dual Head welder is the best long term solution.
Do you have a part with both M6 and M10 fasteners and wonder how you're going to make your productivity numbers?  You can not use the same settings for both welds.  Save time and effort (and space on your floor) by finishing the job in one step.  No more queueing parts, staging, or running the same part on two different welders.
The Dual Head is designed for applications that include:
Welding two welds at once
Using dual output nut feeders (or individual feeders), to weld two fasteners at a time
Using large or complex tooling assemblies that require more than one weld
---
Key Features
CNC machined, 99.99% pure copper secondary
The lower knee has about 10" of vertical adjustment, allowing the deepest of parts to fit within the throat of the machine
Dual t-slot platens available, for fast tool changes
Both the upper ram assembly and the lower knee are mounted on a sliding gib, allowing ideal adjustment for various operator heights and pass-line heights
Robust frame design
Hydraulic jack mount for easy adjustment of lower knee height
Sixteen cam followers guide the ram, for precision, reliability, and repeatability
Fully rebuildable rams
Precision air system
Exclusive use of copper core, water cooled transformers
All copper is a minimum 99.9% pure, or RWMA class
Designed and build in the USA
Multiple Configurations Available
Sequential firing independent weld heads (single transformer, single weld control; A, B, or Both selector switch, welds one at a time, clamping one after the other)
Cascade firing independent weld heads (two transformers, single weld control with two SCRs; A, B, or Both selector switch, welds one at a time [welds can be spaced about 30ms apart], clamping at the same time)
Simultaneous welding independent weld heads (two transformers, two separate weld controls; A, B, or Both selector switch, capability of welding and controlling each individual weld, clamping at the same time)
---
Image Gallery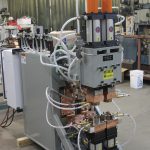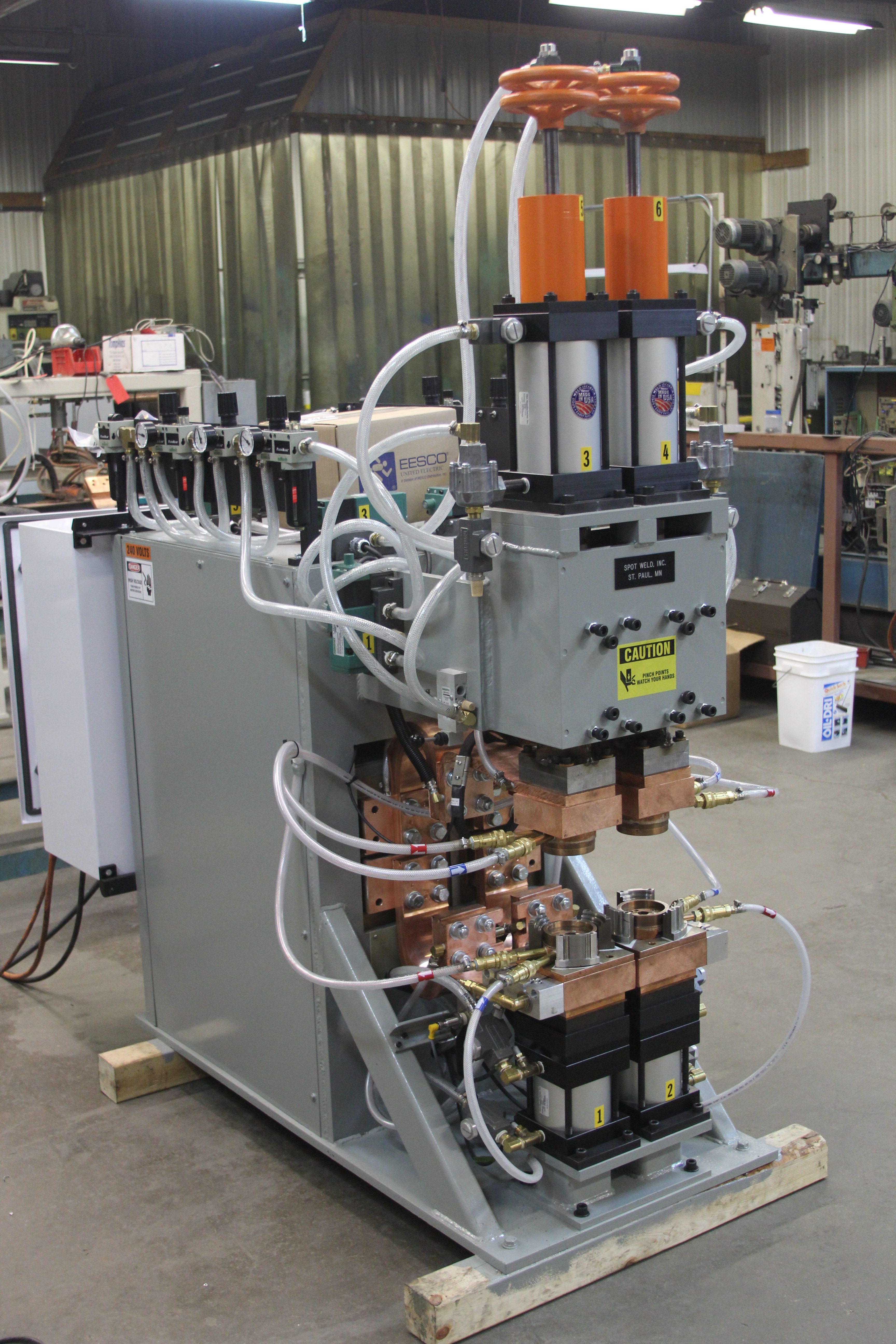 Bench Top Dual Head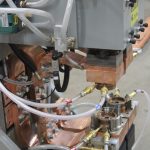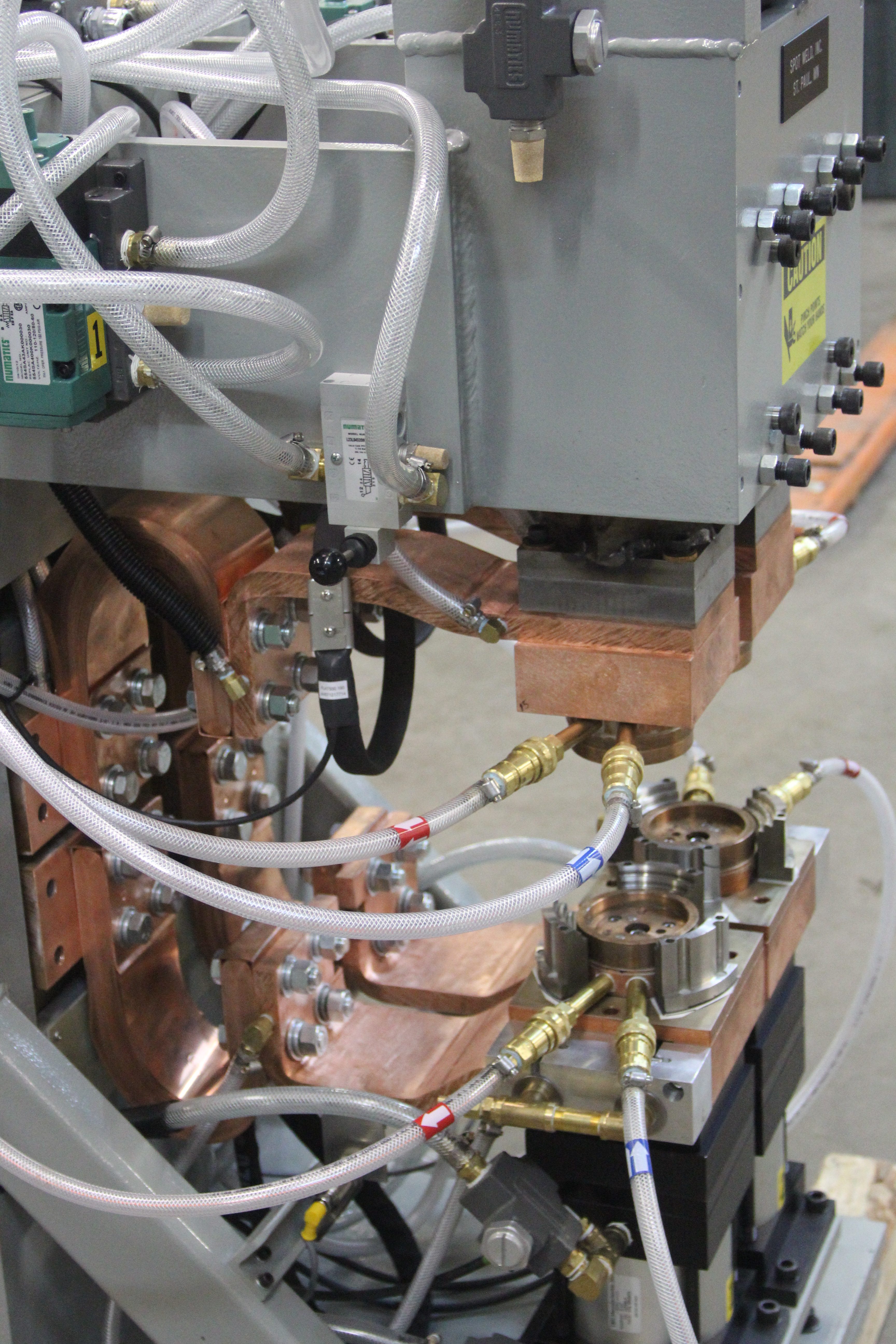 Dual Head tooling for oil filters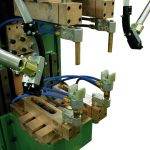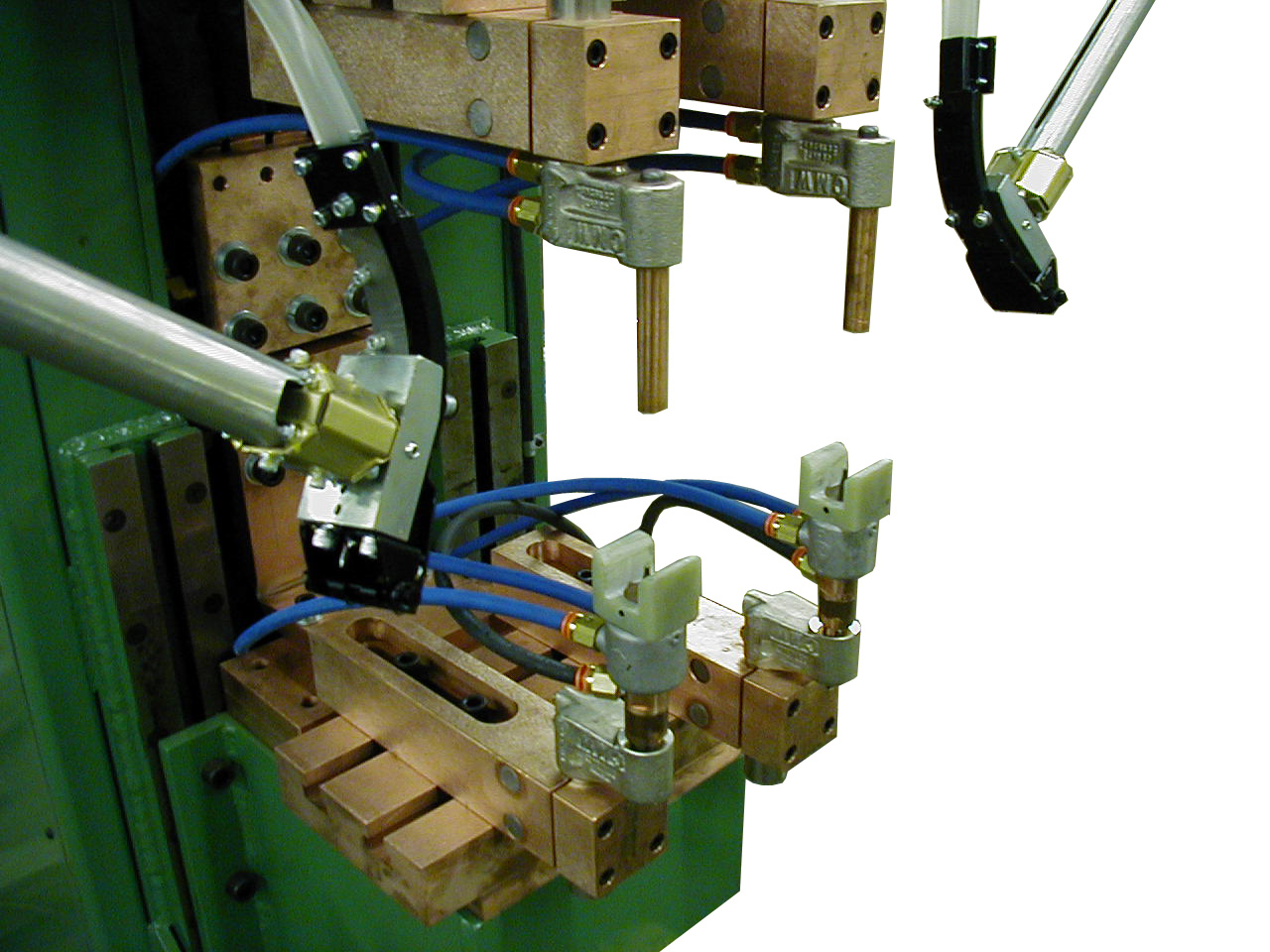 Dual Head with tooling for automatic nut feeders