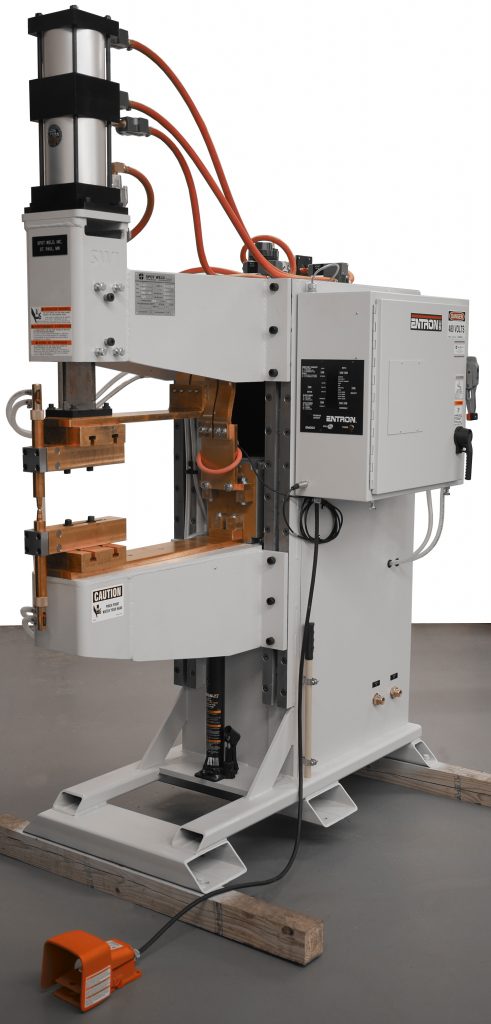 General Information
Press Projection welders are ideally suited for higher force requirements, or larger parts.  They can also be equipped with t-slot platens, for rapid tool changes.
The main difference with the Press Spot welders vs the Projection style welders is the lower knee. A spot welder traditionally has a round lower arm, whereas a projection welder has a box-construction lower knee for mounting tooling and fixturing. It is common to mount t-slot platens to a projection welder to enable quick change-over of tools. Ever seen t-slot platens on a vertical mill or a drill press? This suits the same purpose.
If weld arms are used on platens, we make the arms square.  This removes degrees of freedom, improving setup time and repeatability, and adds strength. Projection welders can have square arms without platens as well, if tool changes are not required.
A "Projection Welder" is so named because many metal stampings will use weld "projections" on the part to enable multiple welds at once, or to ensure a quality weld. To weld multiple welds at a time typically takes more weld force than a traditional spot weld, so a more robust frame is required to prevent flex with the higher forces. Spot Weld's PressRite Projection Welder uses the same robust cam-follower ram design as the rest of our line of press style welders.
A Press Projection welder excels when:
Welding studs or weld nuts
Welding stampings with multiple projections
Welding Stainless Steel, Titanium, or other high-force applications
High precision tooling is required
T-slot platens are required
Frequent tooling change-overs are necessary
---
Key Features
Throat depths range from 12" – 36" (24″ standard; should you need a greater reach than that, please contact us for details)
CNC machined, 99.99% pure copper secondary
The lower knee has about 10" of vertical adjustment, allowing the deepest of parts to fit within the throat of the machine
Tapered lower knee, for fitting smaller diameter parts
Both the upper ram assembly and the lower knee are mounted on a sliding gib, allowing ideal adjustment for various operator heights and pass-line heights
Robust frame design
Hydraulic jack mount for easy adjustment of lower knee height
Eight cam followers guide the ram, for precision, reliability, and repeatability
Fully rebuildable ram
Precision air system
Exclusive use of copper core, water cooled transformers
All copper is a minimum 99.9% pure, or RWMA class
Designed and build in the USA
---